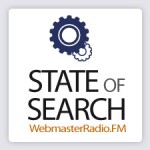 Deze week belt Bas later in omdat hij op Sascon in Manchester zit en het met qua trein en vlucht bijna helemaal kon halen. Het eerste deel van de show hebben Sander Tameala en ik het gehad over zijn Presentatie op het Emerce Conversion Event over Conversie optimalisatie.
Aan bod kwamen onder andere wat conversie optimalisatie nu wel of niet is, de cijfers van Amazon met betrekking tot site snelheid. Waar je het beste kunt beginnen met testen, het gebruik van micro conversies een aantal eyetracking tools om te gebruiken en meer.
In het tweede deel van de show komt bas bij ons en verteld hij over Sascon en wie er allemaal zijn.
In het derde deel hebben we het over Facebook Open Graph, de implicaties hiervan, de risico's waar ik al eerder een rant over schreef: Facebook vs. Google hebben we doorgenomen.

Gerelateerde showlinks:
Conversion optimization
SASCON
Facebook privacy issues
http://mashable.com/social-media/facebook/
Als je een topic wilt aandragen kun je een url naar onze delicious feed sturen naar "stateofsearch" en als we er wat mee kunnen hoor je het terug in de show. Heck, als je zelfs iets te vertellen hebt wat wij de moeite waard vinden, neem dan even contact op!
Je kunt live naar ons luisteren elke dinsdag om 20.00 uur op www.webmasterradio.fm. We waarderen het als je ook met ons meedoet in de chatroom om te discussieren of vragen te stellen.